by Timothy McQuiston, Vermont Business Magazine Governor Phil Scott had several announcements including nearly $4 million in federal funds secured by Senator Sanders dedicated to expanded summer youth programs. He also was cautiously optimistic about ending the pandemic mitigation measures by the end of next week.
To that end, the CDC has had a data glitch that could delay the vaccination update. The governor expects it to be updated on Tuesday. There has been some duplicate counting, which has led to Vermont and the CDC having slightly different numbers. For the purposes of lifting the pandemic orders, the state will now be using the CDC data. Currently it shows the state has a vaccination rate of 77.6 percent of all eligible Vermonters having received at least one dose. 
While he likely will keep the State of Emergency in place for at least a little while, the state will end the COVID mitigation mandates, including for mask wearing, as soon as Vermont hits the 80 percent vaccination level. In the meantime, businesses must still follow the state's "universal guidance" (see below)
But starting today, he is lifting the curfew imposed on bars, restaurants and social clubs, which can all now go back to regular hours. However, the social distancing requirements will stay in place until the general emergency orders are lifted. Proprietors still have the option of maintaining mask requirements until that time.
The Agency of Education also announced that guidance is being developed that outlines school plans for the fall semester.
AOE Secretary Dan French said Friday that for the fall, all schools will be back to full in-person learning five days a week. Remote learning will be limited to pre-pandemic guidelines for some students. But the schools must have all other students on campus as usual for it to count as a "student day" and meet AOE requirements for school days. Snow days will once again be counted against the school year requirement. They had not been during the pandemic. 
For the rest of this school year, French said that even if the governor lifts the pandemic mandates, the AOE suggests the school districts continue to follow current pandemic guidance to the end of the spring semester.
Scott also announced that starting on Tuesday, his regular pandemic press conferences will go down to once a week. They will maintain the same call-in structure for reporters and continue the live video feed. When the pandemic began, the press briefings were three times a week, before being pared down to twice a week last July.
FALLEN HEROES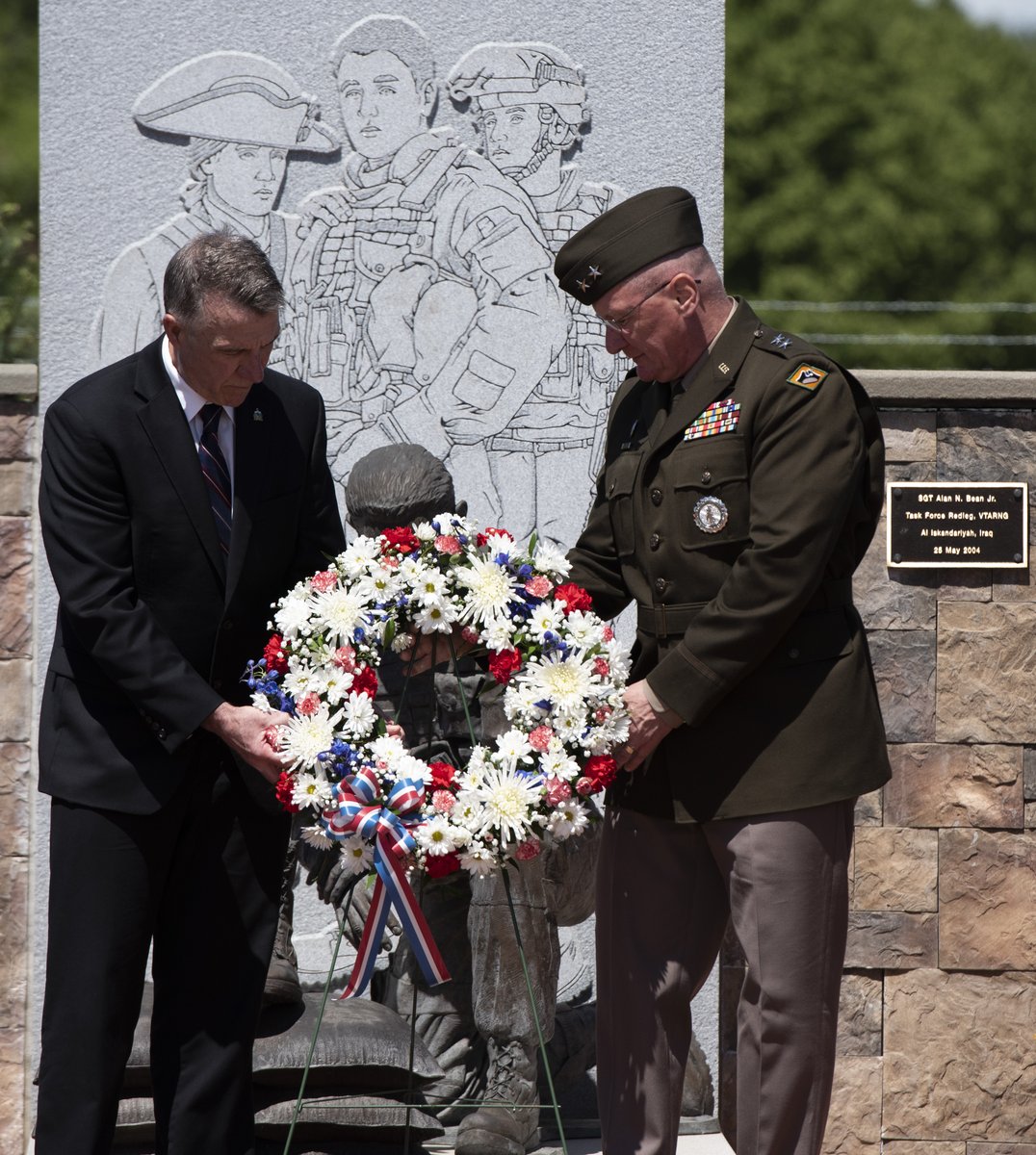 On Thursday, @GovPhilScott joined the @VTNationalGuard to dedicate a memorial to those we've lost to the war on terrorism. Members of the military make tremendous sacrifices for our country and we owe so much to them. We must honor them for how they lived and the ideals they died to protect.
Scott announced on Friday that at the @CocaCola 600 in Charlotte, NC, this weekend @NASCAR is honoring fallen heroes ahead of Memorial Day. Each car will have the name of one brave American who made the ultimate sacrifice on their windshield. One of them will be a Vermonter: Sargent Tristan Southworth of Walden. Tristian's name will appear on the 17 car out of @roushfenway driven by @Chris_Buescher.
"I spoke with Tristian's parents at the re-dedication of the Fallen Heroes Memorial at Camp Johnson on Friday, and I know how much this means to his family. I want to thank @NASCAR and Vermont native and UVM alum @stevephelps, president of NASCAR, for their efforts and recognizing our fallen heroes," Scott said. 
UNIVERSAL GUIDANCE
The following is guidance that all businesses, organizations, and operators must follow. Additional guidance may apply based on the sector.
Stay home if sick.

 Organizations must have policies in place to remind employees to stay home if they have signs and symptoms of COVID-19. No symptomatic or COVID-19 positive workers are allowed on site. Unvaccinated employees who have not had COVID-19 in the past 90 days and have had close contact for more than 15 minutes with any person who is diagnosed with COVID-19 are required to quarantine for 14 days or for 7 days prior to obtaining a COVID-19 test. See the Department of Health's guidance for more information on work place exposures.

Wear a mask.

 The State of Vermont currently has a mask mandate for individuals who are not fully vaccinated. (Fully vaccinated is two weeks after last dose). All employees or customers who are not fully vaccinated must wear face coverings over their nose and mouth when in the presence of others. In the case of retail cashiers, a translucent shield or "sneeze guard" is acceptable in lieu of a mask if the employee works alone and does not interact with customers outside the workstation. Businesses, non-profit and government entities may decline service to individuals who are not wearing a mask, if they so choose. This includes refusing service to those who are exempt from the mask mandate, including any fully vaccinated persons. However, the business shall provide an alternate way for those not wearing a mask to access the business, such as offering curbside pick-up, delivery, or other innovative solutions.

Ensure six-foot spaces and uncrowded places.

 Those employees or customers who are not fully vaccinated must observe physical distancing of 6 feet from other employees or customers who are not fully vaccinated while on the job. Businesses and non-profit or government entities must ensure employees and customers who are not fully vaccinated are provided with 6 feet of space to allow them to remain distanced from other persons who are not fully vaccinated while on location, to the extent possible.  Fully vaccinated employees or customers do not need to follow spacing requirements.

Practice good hygiene.

 Employees must have easy and frequent access to soap and water or hand sanitizer during the duration of work, and handwashing or hand sanitization is required frequently including before entering, and leaving, job sites. All common spaces (when open) and equipment, including bathrooms, frequently touched surfaces and doors, tools and equipment, and vehicles must be cleaned regularly and, when possible, prior to transfer from one person to another, in accordance with CDC guidance.

Think before you travel.

 Follow the state's travel guidance and educate your employees and customers about the state's policies. Travel restrictions and guidance remain in place for international travel. You can review that guidance on the Department of Health website.
The Universal Guidance listed here serves as a baseline. Any business, organization, or operator is free to take additional safety precautions for the health and safety of its employees and consumers.
SPECIALIZED GUIDANCE
At this time, the following will move to Universal Guidance but still retain specialized guidance:
---
At this time, the following will retain specialized guidance and not move to Universal Guidance.
---
Restaurants, catering, food service, social clubs and bars must cease service at 10:00pm each night as directed in Addendum 15 to Amended and Restated Executive Order No 01-20.
Update Starting May 29, 2021: This sector will no longer have this specialized guidance and will only be required to follow the Universal Guidance.
Full list of sectors with specialized guidance
---
Refer to the guidance for overnight summer camps and limited residential summer college programming for Summer 2021.
Guidance has also been issued for summer day camps.
Other childcare guidance is available from the Agency of Human Services.
Full list of sectors with specialized guidance
---
Guidance for sports and organized sports, including organized youth leagues and school-based sports programs is segmented into separate phases. For full details, please read the entire recreational sports and organized sports guidance.
Additional direction on school-sponsored spring sports programs, applicable to both public and independent schools, has been published by the Agency of Education at: https://education.vermont.gov/sites/aoe/files/documents/edu-spring-sports-programs-for-the-2020-2021-school-year.pdf
Full list of sectors with specialized guidance
---
Colleges and universities retain individualized guidance found at the Mandatory Guidance for College and University Campus Learning document published on the ACCD Restart webpage.
Full list of sectors with specialized guidance
---
Ski resorts must continue to operate under the guidance issued on November 3, 2020 available at through the end of the 20/21 ski season: accd.vermont.gov/content/vermont-ski-resort-covid-19-winter-operations-guidance
Full list of sectors with specialized guidance
---
Follow the Department of Health's Health Care guidance.
Full list of sectors with specialized guidance
---
Follow the Agency of Education's K-12 education guidance.