Round up for heroes!
Sounds like a slogan you've heard before in the pandemic, an exhortation to give a little to help first responders and other essential workers. Was it on the commercial for that sub shop chain? Or was it something the supermarket cashier asked?
Neither, actually. It was a key piece of a hypothetical marketing campaign created by five School of Hospitality Administration seniors for a class project for the Hampton by Hilton hotel chain.
Customers would be asked to round up their bill, with the change going to a program to fund free stays for pandemic heroes. "We all counted on them in a time of need and want to return the favor, so they can count on us to have a relaxing, enjoyable stay in any destination they desire," said Bobby Hyun Chang Lee (SHA'21) during the team's late April final presentation.
While the plan may or may not become a reality in some form some day, the real-life Hampton executive who was the team's "client" was impressed.
"Wow," John Seabreeze, director of brand management for Hampton by Hilton, said at the Zoom presentation. "I've sat through a lot of marketing presentations, and usually I'm coming up with all the reasons why it won't work. And I struggled to come up with the reasons why this wouldn't work."
Team Hampton and six other groups took on different real-life Hilton brands as clients of a sort in their course Advanced Hospitality Strategic Marketing, taught by Leora Lanz, an SHA associate professor of the practice and chair of the school's Master of Management in Hospitality program. The others included Hilton, Hilton Garden Inn, and Tempo by Hilton.
"My goal in this class is to bring our students to the other side of graduation—the real world," Lanz says. "I tell the students that this is a beast of a project, and it should be. First of all, this is an advanced class and second, it's super rewarding to get motivated and boosted to reach heights they didn't know they could achieve. It's a relief for the students once presented, but then after a day of realization—it's something they remember and put on résumés.
Students had to learn to assess a situation and conduct competitive analysis through market research, establish specific marketing goals and strategies, and offer recommendations directly to the client in a 20-minute final presentation.
Team Hampton faced a tricky challenge in the Hilton franchise, whose 2,700 hotels (2,400 in the United States) include Hampton Inn and Hampton Inn & Suites. Hampton had the same issues as many other chains over the last year, and the students wanted to help the brand hit the ground running post-pandemic. But that meant finding new marketing angles for a mature, 37-year-old brand whose customers love its friendly service and free breakfast—a brand so solid they haven't changed their dark blue logo in all that time.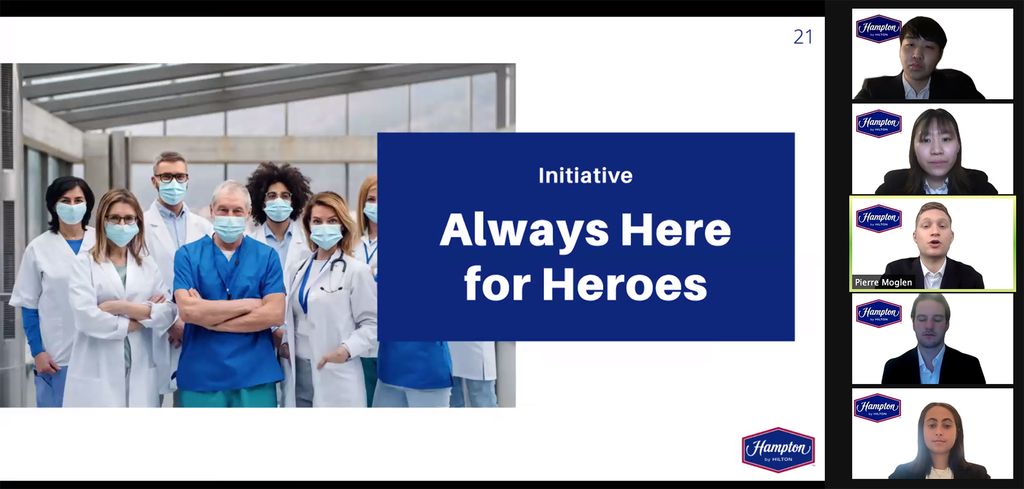 The students' goal? "To refresh the brand, but more in the sense of who we want to target and bring into the hotel in a post-COVID world," said team communicator Alexandra Rich (CGS'19, SHA'21).
"To take an established and successful brand and come up with something new is hard," Lanz told the students more than once during the semester.
Hampton by Hilton has 90 percent brand awareness and 45 percent brand consideration, noted Logan Cockerill (CGS'21, SHA'21), a player on both Team Hampton, and as captain, on the BU men's hockey squad. When Team Hampton members pointed out their most recent destinations on a map as part of the presentation, Cockerill's line was, "I travel to Chicago, Ill., and all over the Midwest to play hockey."
"Our reach is simply unbeatable," Team Hampton captain Pierre Moglen (SHA'21) said as they began their final presentation.
That's "our reach," as in Hampton's. Students dressed for a business meeting, used "our" and "we," and even managed to pop up that Hampton by Hilton logo on all of their Zoom screens.
Consensus in the industry is that recreational travel will resume before business travel post-pandemic. Ling Xu (SHA'21) laid out target markets for their campaign: leisure travelers, especially families and amateur and youth sports teams, who already tend to be Hampton customers; business road warriors, especially budget-minded independents; essential workers such as nurses and National Guard members on pandemic work assignments; and the internal audience of hotel owners and staff.
The team came up with wide-ranging recommendations, from media spots to "digital touchpoints" (such as pre- and post-stay emails to guests) to signage in the hotels themselves. "We aim to build strong relationships with guests and spread the message that we are always here—for you." 
The plan included a new marketing initiative: Always Here for Heroes.
"This program would enable and encourage hotel guests to round up their total bill to support complimentary Hampton stays for local hometown heroes," Moglen explained. "Once an individual property has raised enough from program donations, they would be able and encouraged to invite a local essential worker for a complimentary stay. Prior to arrival the assigned room would be prepared with a welcome card on behalf of Hampton thanking the hero for their humanity, kindness, and inspiring strength, sending the message that we are always here for you."
One of the semester's key texts, Rich noted, was The Conscious Marketer (Amplify, 2020) by Jim Joseph, which "differentiates between specific offerings and overall brand value by stating that products offer functional value, whereas brands offer emotional benefits."
"You did an excellent job of connecting our positioning with our marketing, and an excellent job of connecting our reliability—Always here—and our friendly reputation—for you," Seabreeze said. "I loved it."
Non-Hilton lessons
A key takeaway from the semester's work was that "resting on one's laurels is not enough!" Moglen says, speaking after the presentation. This became evident through their effort to create marketing strategies to keep a mature, yet highly successful, brand fresh, energized, and relevant.
"I also found that the same takeaway applies not only to companies and brands, but to individual careers as well," he says. Being team captain "felt at times as though it was a leadership practicum," offering both challenges and rewards. The hardest thing was keeping everyone on the team "motivated, excited, and actively participating despite this being just one of many demanding group projects in our final semester of undergrad."
"It's a tough project, and our students rise to the occasion," Lanz says. "Here's what's awesome: when the 'client' hears us and actually implements our suggestions. And we did hear from a couple of the Hilton teams already, and they also sent marketing job opportunities our way, too."
Add one more degree of difficulty: two Team Hampton members were on the other side of the world. Thanks to the pandemic, Xu and Lee were home, Xu in China and Lee in Korea, for the semester.
"The hardest thing is definitely the time zone," Xu emailed from Zhejiang Province. "During the final two weeks of completing the project, I had to take classes and work on the final projects until 3 to 4 in the morning, then wake up at 8:30 am for our Hampton team daily meeting.
"Final weeks were always crazy, with heavy workloads," she says, "but this semester was insane because of the time zone. With everyone's busy schedule and the time difference, it became normal for me to stay up until 2 to 3 am throughout the semester."